Snow Removal Gets Greener
Ingezonden door jgeeslin op 26 december, 2009 - 13:16
If you live in the eastern United States, then you are no doubt dealing with plenty of snow this winter. Ever wonder just how the snow removal systems work that make your life that much easier trying to get to school and work in the morning?
The snow is "removed" by the use of sodium chloride. The melting snow, ice and rain cause salt to run off roads onto nearby vegetation and soil, eventually seeping into streams, lakes and rivers. This is of course very harmful to wildlife and vegetation in the area. This runoff salt has also been found in residential drinking wells in some Northeastern and Midwestern states.
The methods that are used to clear all that snow are beginning to get greener, with some cities taking action. Maryland is testing a new fluid made from sugar beets, which is mixed with salt brine and then sprayed onto highways. The molasses-based substance makes the mixture adhere to roads and allows highway crews to use less salt and recoat roads less frequently.
New Hampshire is even considering legislation that would require state certification for anyone who puts down salt on public and private roads and parking lots. The state Department of Environmental Services requested the legislation after finding that about 50% of road salt runoff in four environmentally sensitive watersheds comes from private parking lots and driveways.
Click here for more info.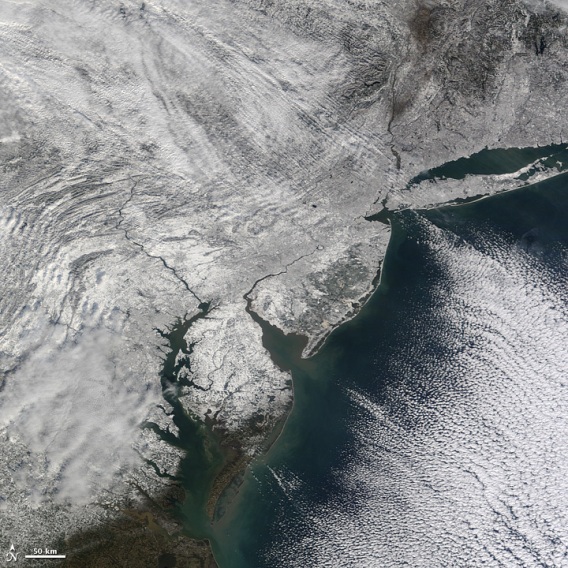 Snow on the Chesapeake Bay / Photo by Jesse Allen of NASA Earth Observatory.